Imperial Ports of Claudio and Traiano
The port of Ostia has now become insufficient, the emperor Claudius around the first century AD. he had a port center designed specifically for the service of Rome. The realization of this project with pharaonic proportions began in 42 AD. and it took about twenty years of hard work.
The large docking basin, very large but shallow, immediately began to silt up and soon became unusable. A second intervention was necessary and the construction of a new basin artificially dug further inside the coast. Hexagonal in shape, it was built by the Emperor Trajan between 100 and 112 AD. This work was also of considerable size: the hexagon measures 335 meters. per side.
Today the area surrounding the hexagonal lake, where remains of structures of all kinds related to the activities of the port are preserved, is placed under the protection of the Archaeological Superintendency of Ostia and can be visited for free. The lake and part of the surrounding area, also related to the ancient city of Porto, is privately owned but can be visited for naturalistic trips (Oasis of Porto).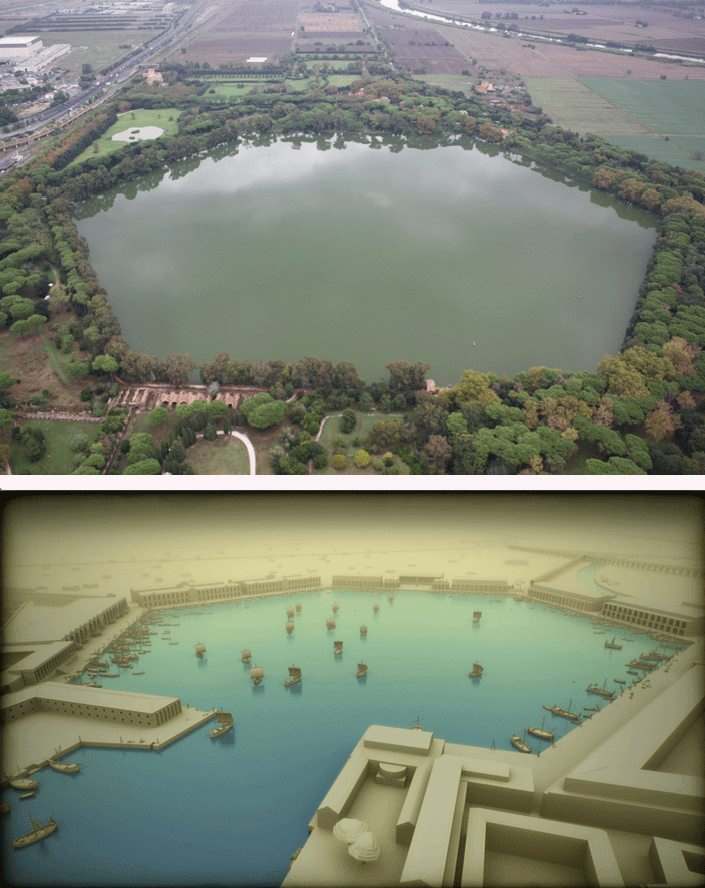 Where is it
The entrance to the excavations of the Claudio and Traiano ports is at km 27 of via Portuense, under the airport viaduct (Via Montgolfier)
Information
Address: Via Portuense, 2329
Timetables
From Tuesday to Sunday and on holidays.
From 8.30 – 16.30 (last admission 15.30 ) from 25 October to 28 (or 29) February
From 8.30 – 17.15 (last admission 16.15) from 1st March to 31st March:
From 8.30 – 19.00 (last admission 18.00) from 1st April to 30th September
From 8.30- 18.30 (last admission 18.30) from 1st October to 24th October
Closed on Mondays, January 1st, May 1st and December 25th.